Durante el día de hoy Apple ha lanzado una actualización al OS X Lion 10.7.3 la cuál esta disponible para descargar, solo deben ir a Finder -> Sofware Update e instalar. Este es el 3er update ofrecido por Apple referente al OS X Lion.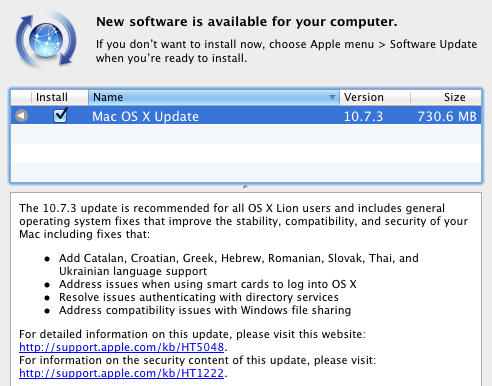 El mismo contiene soporte para lo siguiente y arregla los siguientes bugs encontrados los cuales ya con este update no deben dar ningún problema.
The 10.7.3 update is recommended for all OS X Lion users and includes general operating system fixes that improve the stability, compatibility, and security of your Mac including fixes that: 

– Add Catalan, Croatian, Greek, Hebrew, Romanian, Slovak, Thai, and Ukrainian language support 
– Address issues when using smart cards to log into OS X 
– Resolve issues authenticating with directory services 
– Address compatibility issues with Windows file sharing
Este update es recomendado para todos los usuarios de OS X Lion incluye arreglos generales al sistema operativo que mejoran la estabilidad, compatibilidad y seguridad de tu Mac. Agregando soporte a idiomas como Catalan, Croacia, Griego, Hebreo, Romano, Eslovaquia, Thai y Ucrania. Arregla el problema cuando se insertan pequeñas smart cards en el OS X, resuelve el problema de "authentication" con servicios de directorio y agrega compatibilidad con Windows file sharing.
Puedes hacerlo aquí:
http://support.apple.com/kb/DL1484
Fuente: MacRumors